How Institutional marketing in Europe Has Changed
MIFID II is just one more piece of legislation that has been disrupting the capital markets. It forever changed institutional marketing in Europe when it came into effect in January 2018. If you were not paying close attention you might have missed the fact that, as a direct result, most of Canada's leading banks and broker-dealers have quietly terminated their annual European institutional investor conferences.
Today, to arrange a corporate meeting with an institutional investor, a broker-dealer needs to have a compensation agreement in place. Without this formalized relationship, the barriers to arranging a meeting with an institutional investor have become nearly insurmountable.
Which Horse To Pick
Understanding which broker-dealers have established a strong enough network of these subscription relationships to arrange the best institutional marketing schedule is just another layer of complexity when selecting a broker-dealer for marketing.
We looked at deal flow and the physical investment banking presence of Canadian broker-dealers in Western Europe. Our thesis is that broker-dealers with greater deal flow and physical presence are more likely to have sufficient subscription networks in place to support a European roadshow.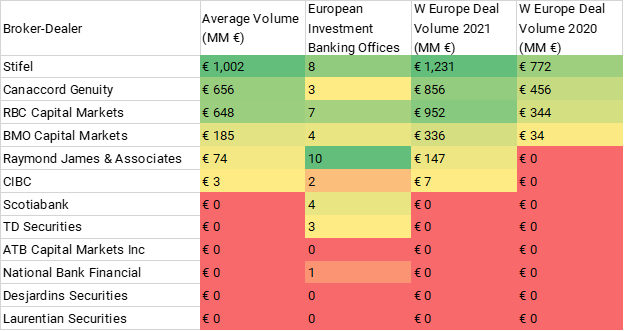 Based on the above analysis the top five broker-dealers we would recommend for Europe are:
Stifel | GMP
Canaccord Genuity
RBC
BMO Capital Markets
Raymond James & Associates
Of course, we would never recommend marketing with any broker-dealer that has a hold or sell on your stock or doesn't have you under research coverage. Furthermore, as you go up the food chain to larger banks, the effort they are willing to expend on pulling together a schedule is proportional to your market cap and fee generation probability… so you have to find the right balance between a broker-dealer's presence, size, and output.