Dynamic Presentations for Major Events
In step 2 of the Premium Valuation Framework, we discussed how well designed and executed visuals and events can immediately turnaround the market's perception of a company. They help a company create the perception that they are "bigger". Dynamic presentations, in particular, can make a company look more relevant, more competent, and more mature than they currently are. Never before have companies had such affordable access to these dynamic platforms. Prezi is just such a platform that can rapidly communicate a message with high impact.
We also discussed how the five-year strategy launch can be one of the most compelling communication tools available to companies. When properly executed, a clearly articulated five-year plan can have tremendous impact. It is also the best defence that management can deploy against a discounted share price, shareholder activism, and predators.
Here we will explore two examples of Prezis that launched the five-year strategies for Parkland Corporation and Rocky Mountain Equipment.
Parkland's 2012 Strategy Launch
Parkland Corporation (TSX: PKI), one of North America's fastest growing independent marketers of fuel and convenience food products, enjoys a very bright future today. However, in May of 2010 it was an income trust in the middle of its "perfect storm" caused by the:
End of the tax advantage of being an income trust.
Impending loss of a lucrative supply contract that investors had no idea how to quantify due to its highly confidential nature.
Stretch of making their largest acquisition in their history.
Failure of their newly implemented Enterprise Resource Planning system.
Their 2012 Strategy Launch was the key to empowering a dramatic turnaround in the capital markets. To get out in front of its challenges, Parland launched the Parkland Penny Plan which aimed to double 2011 normalized EBITDA of $125 million by the end of 2016 through acquisitions and one cent per litre in efficiencies across every litre of fuel sold. Parkland also provided guidance for 2014 to 2016, but not for 2013 (the volatility of the supply contract made providing any meaningful guidance for 2013 impossible). The strategy worked to manage capital market expectations appropriately, while also enhancing Parkland's valuation. This enhanced valuation empowered Parkland to make a series of acquisitions that supported the company's cashflows and, most importantly, its dividend. The prezi is available by clicking on the image below.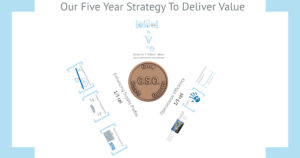 Rocky Mountain Equipment's 2018 Strategy Launch
Rocky Mountain Equipment (Previously TSX: RME), is Canada's largest agriculture equipment dealer. However, in 2017 it suffered from a discounted share price. A perception audit revealed that the capital markets did not understand it's value creation strategy, and that it was not getting credit for past performance and its future potential. The launch of their 5-year strategy in 2018 immediately enhanced their valuation.  The prezi is available by clicking on the image below.